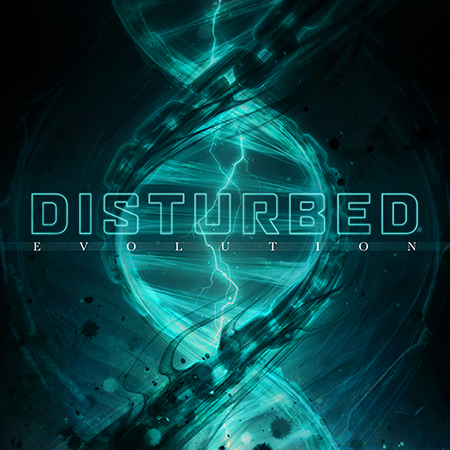 Disturbed released their 7th studio album Evolution via Reprise Records. Follow-up to 2015' Immortalized, it is a tremendous offering produced by Kevin Churko.
This is their most diverse record to date, showing their personal growth. It is a vibrant well-crafted set of groove-driven rock combining a layered sound featuring a thrilling variety of acoustic, electronic instrumentation and orchestration with haunting vocals.
Inspired by classic rock, the album is far different , far more versatile than the last with its mix of heavy and downtempo  songs. It makes Evolution  a consistently engaging listen, every track  taking an unknown path and various turns. Watch You Burn and In Another Time are two striking examples.
They have loosened their limitation, extending their music beyond style and genre. The outcome is a natural refreshing sonic adventure with catchy melodies. and rhythmic variations. There 's many inventive  and hypnotic song hooks too. The sound is rich and textured with a unique use of harmonic and dynamics to simply catch the listener attention underneath waves of pure energy. Crunching guitar riffs alternate between quiet  and heavy. Beautiful and evocative acoustic guitars feature on Hold On to Memories and Already Gone.  The drumming is great as well. Unique signature vocals are highly melodic leaving a lasting impression like none other, even more than previously. Lyrically, Evolution deals with addiction, depression, death, loss , hope and rebellion. They are even more direct , like No More that has all the ingredients to be a radio hit single too. It will really resonated with listeners specially the powerful anthem A Reason to Fight and the cinematic Hold On To Memories .
All in all, Evolution sounds like nothing else but also not like a traditional Disturbed album. It creates a cocktail of experimentation that provides both the unexpected and the satisfying. Their work is pure creativity and artistry.
Get your copy now here.
Disturbed 'Evolution' Album Review