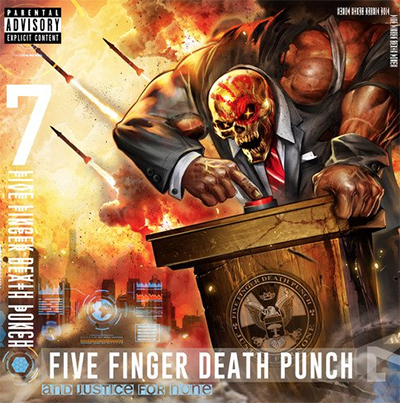 Five Finger Death Punch recently released their 7th studio album And Justice For None. The record paints a visceral picture of what's going on with them. Sham Pain sets the mood. And Justice For None takes the listeners on a rich emotional rollercoaster, a journey through their chaotic year  in their band's career and Ivan moody's struggles with addictions. The songs are powerful in tone and lyricism. The music is real, raw and dark. It is a symphony of emotions delivered with honesty and authenticity. The lyrics are very direct. They speak true and it is appreciated. Their trademark is still a perfect combination of aggression, great guitar works, hooks and melodies,  but his time, the songs are more distinguishable from one another.  New tones appear on tracks such as Bloody, Sham Pain, Save Your Breath.
Two covers feature on the album. One is a cover of the Offspring's Gone Away which tempo is slowed down.The other cover is a rendition of Kenny Wayne Shepherd's Blue on Black taking a heavier direction.
Between classic FFDP (Rock Bottom, Bad Seed,  It Doesn't Matter) with a fresh touch and electronics take (Fire In The Hole and Bloody), the band also delivers heartfelt ballads such the touching piano – acoustic guitar I Refuse. 
All in all, with And Justice For None, you get to know them a little bit more and understand them through their chaotic part of their band's career. Anybody who loves authentic, diversified and emotional heavy metal with  a couple of experiments, must pick up it. It is by far one of best 2018 albums.
Listen on Apple Music: https://itunes.apple.com/us/album/and…
Listen on Spotify: http://open.spotify.com/album/4tL35a7…
Buy on iTunes: http://itunes.apple.com/album/id13606…
Buy on Amazon: https://www.amazon.com/Justice-Deluxe…
SaveSaveSaveSaveSaveSave
SaveSave
SaveSave
Five Finger Death Punch 'And Justice For None' Album Review