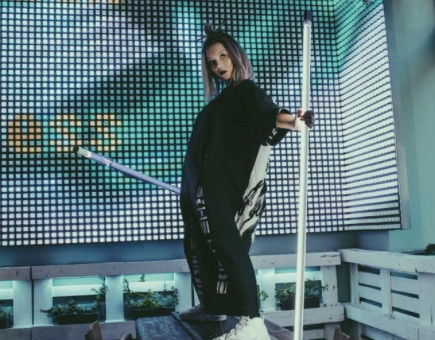 Giudi aka Jitka Martiriggiano from the Czech Republic/ Italy will release her new single Tribe on March 4th. She  is one of the new breed of self determined musicians who effortlessly combine music, fashion and art.
Her Alt Pop combines uplifting sometimes dark melancholic songs with a future electronic soundtrack, her distinctive vocals managing to be both haunting and melodic, with warmly reflective lyrics.
After a baptism of fire, appearing in the Final of Czech/Slovak X-Factor as part of production created Girl band Joy$ and as lead singer of the rock band ISUA, Giudi launched her solo career in 2017 with the release of her EP Reborn, resulting in her receiving the Silver Award for Best New Artist at the Czech music awards in 2018.
Much in demand to perform at events, she has appeared live at Prague Fashion Week, Czech Fashion Week and for Mercedes and working with such designers as Flora Miranda, Imrczeova, Stop Is Start, Nastassia Aleinikava and Natalie Dufkova.