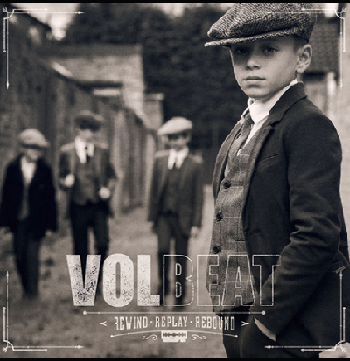 Volbeat recently shared the video for their song Leviathan. It is taken from their upcoming 7th studio album titled Rewind, Replay, Rebound on August 2nd via Republic Records.
Pre-order the physical album as Double Vinyl, Ltd. Double Vinyl Color Edition, CD, 2CD, Ltd. Deluxe Box Edition and the digital album for instant downloads of Leviathan & Parasite now at https://www.volbeat.dk.
Rewind, Replay, Rebound was produced by long-time collaborator Jacob Hansen and co-produced by Rob Caggiano and Michael Poulsen. This marks the first studio album with Kaspar Boye Larsen on bass. To achieve the album's sound, the band also drew upon a myriad of guests.
In addition to again working with backing vocalist Mia Maja on several tracks, they also reunited with the Harlem Gospel Choir. Clutch vocalist Neil Fallon is featured on "Die to Live," the result of touring together and a love for the singer's gruff and powerful style. Raynier Jacob Jacildo (piano) and Doug Corocran (saxophone) of JD McPherson's band also lend their talents to the song. "Cheapside Sloggers" features a ripping guitar solo by Exodus and Slayer guitarist, Gary Holt. Ultimately, Volbeat have not lost their passion to create and progress. It's that which keeps them hungry — and musically honest on the new album.
In other news, Volbeat will hit the road with support from Baroness & Danko Jones. This tour will find the band performing in cities including London, Madrid, Berlin, Hamburg and Stockholm (full dates here) and tickets for all dates will go on sale here on Friday, 24th of May at 9AM BST and 10AM CST and 11AM EEST. Members of the Rebels and Angels fan club will have access to ticket pre-sales at 1PM local time.

The band has previously announced that they will join Slipknot on their extensive Knotfest Roadshow North American Tour as special guests, alongside Gojira and Behemoth. The 29-date tour will kick off July 26th in Mountain View, CA with additional stops in Salt Lake City, Phoenix, and Austin (full dates below). Tickets for these dates are on sale now here.