Randy Houser
today announces that along with the launch of his highly-anticipated new full-length album,
Magnolia,
the singer will release a
feature narrative film
of the same name which embodies the sentiment of the album's lyrics.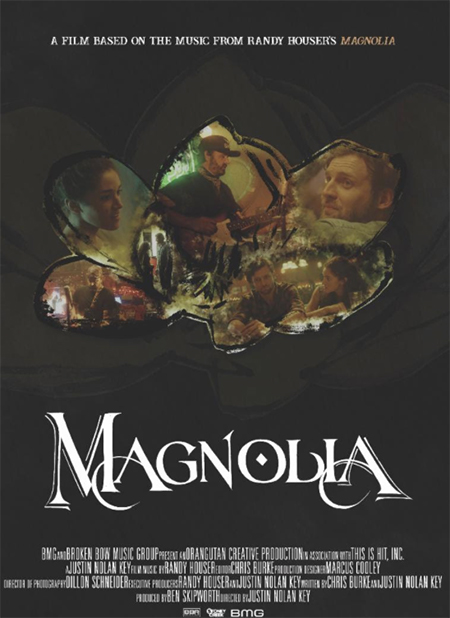 The album, set to be released on January 11th, draws its name from the "Magnolia State" which inspired the homegrown, organic sound Houser has spent the last two years cultivating. The film will feature several live performances by Houser himself, including the lead single off the album, What Whiskey Does,which is currently Top 40 and climbing. See the trailer for Magnolia here.
Magnolia, (the film) is set in Houser's home state of Mississippi and follows two characters (Ana and Noah) in the midst of an intense relationship, marred by their personal lives. Centered around a small group of oil rig workers, the visual representation of the album mirrors the blue-collar sentiments of Houser's Magnolia lyrics as the small Gulf Coast town provides the perfect backdrop to highlight his rootsy melodies and swampy guitar licks. In the film, Houser plays a local singer at the town dive, performing several songs off the album throughout the film.
"Magnolia tells my story but also tells the story of running away from something while not knowing exactly what you're running to," said Houser. "As I got into the groove of creating this album, the story became so vivid in my mind that I realized it had to live through more than just a body of music and become a film. That's exactly what we created… a film about running towards your truth."
"The music of Magnolia has so much character, I think this is such a unique idea to create an entire feature narrative film that brings the lyrics and lifestyle engrained within the lyrics to life," said Key. "I'm incredibly grateful to Randy for giving me this opportunity and trusting me with this one-of-a-kind project."
Houser
will host several screenings of the film for select audiences leading up to his album launch (additional details will be announced in the coming weeks).
Magnolia
(the album) will be released via Stoney Creek Records and is currently available for
pre-order
. Ahead of the album's release, fans can enjoy album cuts "
No Stone Unturned
," "
New Buzz
," "
Mamma Don't Know
" and the album's lead single "
What Whiskey Does
", which debuted at Country Radio as #1 Most Added and
Rolling Stone
immediately dubbed "a classic tears-and-twang drinking song."
TRACK LISTING:
"No Stone Unturned" (Randy Houser, Dallas Davidson)
"Our Hearts (feat. Lucie Silvas)" (Randy Houser, Kylie Sackley, Rob Hatch)
"What Whiskey Does (feat. Hillary Lindsey)" (Randy Houser, Keith Gattis, Hillary Lindsey)
"Whole Lotta Quit" (Randy Houser, Travis Meadows)
"No Good Place to Cry" (Randy Houser, Gary Nicholson)
"New Buzz" (Randy Houser, Keith Gattis, Jeff Trott)
"Nothin' On You" (Randy Houser, Jaren Johnston, Tony Lane)
"What Leaving Looks Like" (Randy Houser, John Osborne, James Otto)
"High Time" (Randy Houser, Brice Long)
"Mama Don't Know" (Randy Houser, Jaren Johnston, Tony Lane)
"Running Man" (Randy Houser, Jeffrey Steele)
"Evangeline" (Randy Houser, James Otto )
RANDY HOUSER LIVE DATES

December 11 – Fortitude Valley QLD, AUS – The Tivoli
December 13 – Newtown, AUS – Enmore Theatre
December 14 – Melbourne VIC, AUS – Corner Hotel
December 16 – Melbourne VIC, AUS – The Forum
January 26 – Philadelphia, PA – SugarHouse Casino
March 2 – Weston, FL – Rob Bergeron's Green Glades Ranch